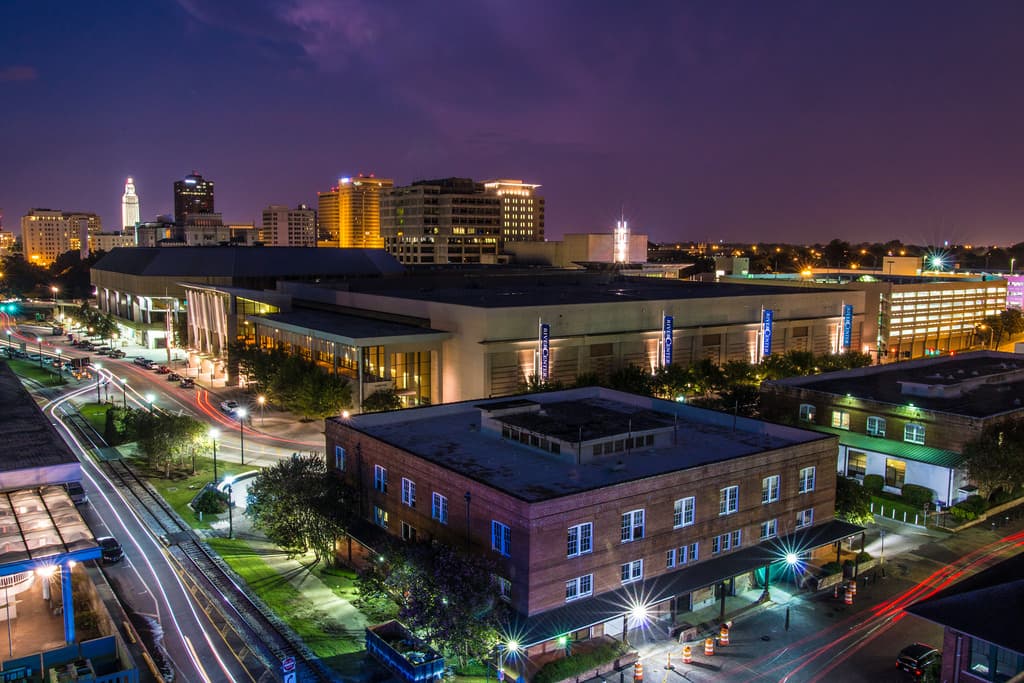 The whole state of Louisiana is renowned for knowing how to have a good time and having eccentric night scenes. Baton Rouge is no exception since it is the capital of this lively state. We at the Fairway View Apartments want to help you plan out your next night of fun around Baton Rouge. There are plenty of bars, wineries, theaters, and other awesome hangouts to choose from, giving you a long list of possibilities for tonight. Whether you're in the mood for something thrilling or relaxing, our Baton Rouge Nightlife Guide will help you choose the best option for the best night of your life in the State of Louisiana.
Location: 4385 Perkins Rd, Baton Rouge, LA 70808
The Bulldog is located in Baton Rouge's Southdown neighborhood, serving up some of the best craft beers, food, and fun around town. We suggest you stop by and try out the popular Crawfish Banditos and Tex-Mex Eggrolls. This bar also offers a dog-friendly patio, television, and a beer-tap fountain for amusement. The Bulldog also participates in the annual Oktoberfest and other events throughout the year.
Location: 3838 Burbank Dr, Baton Rouge, LA 70808
Walk-On's is a famous Louisiana-style bar where you can have some of the best fresh Cajun food in Baton Rouge. It's a great place to have a fun dinner with the family and friends or watch a game on the big screen to pass the time.
Location
7949 Jefferson Hwy Ste C, Baton Rouge, LA 70809
Churchill's is just one of those places where people love to go and relax in a night scene. It is a great spot where you can smoke a cigar and relax in a mature environment. Everyone who goes to Churchill's is looking for a chill night with a glass of wine or whiskey.
Location: 4225 Nicholson Dr #101, Baton Rouge, LA 70808
Originally from Texas, the Pluckers Wing Bar is an excellent spot to try out some classic bar food and enjoy great daily specials. This brand has proven to be a great place to eat out with the family and have some finger licking good food. You just have to try the Holy Macaroni or any of the restaurant's popular wing recipes. Pluckers' service, quality, and the environment is the perfect combination that got it on our Baton Rouge Nightlife Guide.
Location: 4608 Bennington Ave, Baton Rouge, LA 70808
Station Sports Bar and Grill has a friendly atmosphere where you'll find the best of the Baton Rouge nightlife all in one place. This place has some of the city's best specials including Ladies Night on Fridays and Comedy Shows on Wednesday nights. Station Sports Bar and Grill also has its fair share of live music to keep Baton Rouge moving.
Location: 7731 Jefferson Hwy, Baton Rouge, LA 70809
Beausoleil is one of the few places on our Baton Rouge Nightlife Guide that closes a bit early into the night. Nevertheless, this upscale casual bistro does an amazing job of serving fresh food accompanied by live entertainment. Everything from the décor to the menu to the cocktails, Beausoleil never disappoints in showing Baton Rouge how much the place cares for the community.
Location: 7248 Perkins Rd, Baton Rouge, LA 70808
Olive or Twist is a nice little hangout spot where you can enjoy some good wine and food. It is perfect if you're looking for a spot that offers a more private setting. Many of the people that visit Olive or Twist are smaller groups and couples on a date.
XO Night Club
Location: 150 Mayflower St, Baton Rouge, LA 70802
XO Night Club is a great place where you can get your dance on in an energetic environment. It features a live DJ, a comfortable lounge and patio, and a great dance floor that gets lighted up with glowing lights. XO Night Club is the perfect spot to enjoy your night out in style. You can also reserve this venue in case you're looking to host a private event.
Location: 456 N Donmoor Ave, Baton Rouge, LA 70806
The Texas Club is one of the most fun places to visit in our Baton Rouge nightlife guide. It is definitely the place to go if you're trying to hit the night off with some live jams. You can run into some occasional stars that come to Baton Rouge to perform on the Texas Club stage. It is a place that always guarantees some hot fun that will keep you going back for more of its nightlife scene.
Location: 8190 Plank Rd, Baton Rouge, LA 70811
Club Bella Noche is another great nightclub worth visiting for a fun night of dancing. The club usually has some fun themed parties to go with the holidays. The people are always friendly and trying to have the best time possible.
Location: 2183 Highland Rd, Baton Rouge, LA 70802
This isn't your everyday nightclub in Baton Rouge. Splash has 2 different bars and 7 different rooms. You'll be able to jam out to your favorite American music being played by different DJs every night. The place always stays up to date with the best sound systems to give you an excellent time out dancing.
Location: 5454 Bluebonnet Blvd, Baton Rouge, LA 70809
Cadillac Cafe is a nice spot to enjoy some good music and the performances. The performances can be live singing or DJs playing their best mixes. One thing is for sure, it always fills up with an exciting crowd that is looking to have some fun.
Try Doing Something Different For the Night
Not everything on out Baton Rouge Nightlife Guide is about partying or food and drink. Some of the best things to do during the night time in Baton Rouge include watching sports and going to the movies to watch the latest premiere. It gives you the chance to relax and explore other fun attraction around the city limits.
We fully suggest that you go out and support the LSU Tigers on game day. It doesn't matter whether it's a football or basketball game, the collegiate teams always put on a show. Besides, it's a great way of going out and bonding with thousands of cheering fans for the night.
You'll also be able to catch some of the most thrilling performances by the cheerleaders, marching bands, and other spirit teams that help get the crowd going on game days. There's nothing like experiencing a full stadium covered in gold and purple fans that are ready to spectate some of Louisiana's most talented athletes.
Location: 16040 Hatters Ave, Baton Rouge, LA 70816
One of the city's most popular movie theaters where you can go and enjoy the newest Hollywood premiers with some company. The theater also offers concessions and a small arcade where you can wait for your movie to start.
Location: 3353 Highland Rd, Baton Rouge, LA 70802
This theatre has differently themed nights that give you plenty of options to pick from in case you're always looking for something new. Varsity Theatre also brings some of the most thrilling artist to town in case you're into live performances. You can also head over on LSU game days to support the team from the bar since the venue has some amazing school spirit. It's basically an all-in-one hangout spot on our Baton Rouge Nightlife Guide.
Location: 7155 Florida Blvd, Baton Rouge, LA 70806
The theatre is always a great place to enjoy a live show with the best-hidden talents in Baton Rouge. Theatre Baton Rouge is always selling tickets to themed performances that vary depending on the season. It even has live auditions in case you're a performer yourself.