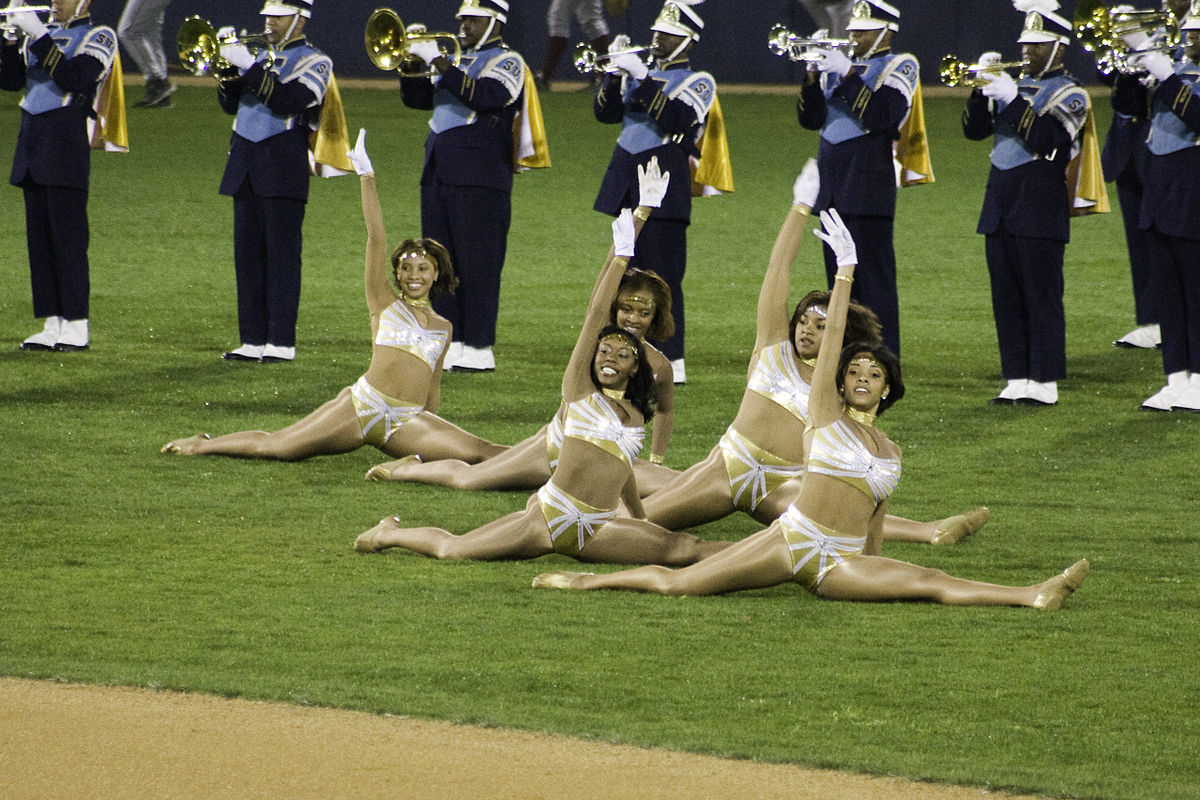 Southern University Marching Band and The Dancing Dolls, photo by JMRosenfeld via Wiki Media, CC BY 2.0
The Southern University Marching Band, also known as the Human Jukebox, puts on performances unlike that of any other university marching band. In conjunction with the flawlessly executed marching drills and musical performances, the famous Dancing Dolls perform with them and have been recognized for their talent to put music into motion.
Not only is Southern University well known in their home of Baton Rouge, Louisiana, but they're nationally renowned. They've made headlines and television debuts. They were featured on ABC Nightline, performed at the presidential inauguration of Bill Clinton, and even appeared at Super Bowl XLVII in 2013.  
Some of their most noteworthy performances are covers of present-day, hit pop songs. A video of their cover of "That's What I Like" was even retweeted by the platinum recording artist Bruno Mars, himself.
— Bruno Mars (@BrunoMars) September 4, 2017
One of their most famous covers is that of "Hello" by Grammy winner Adele. They covered the song while it was number one on the Top 40 in 2015. The cover went viral and was covered by multiple news sources, including the Telegraph and USA Today.
Southern University Covers Adele's "Hello" at Bayou Classic Battle of the Bands 2015
Other popular covers they've done include "Controlla" by Drake, "Drowning" by A Boogie Wit Da Hoodie, and "No Flex Zone" by Rae Sremmurd.
Upcoming Performances
The Human Jukebox website features a performance calendar. The band's schedule coordinates with the football schedule, but they also perform at other events, such as competitions and parades.
You can also follow the band and dance team on social media to get regular updates on approaching performances.
The SU Marching Band/Human Jukebox
The Fabulous SU Dancing Dolls
Join the Southern University Marching Band or Dancing Dolls Team
To join the SU Marching Band or Dancing Dolls, you must first fill out an application. Applicants must be admitted to Southern University and A&M College in order to apply. Applications and tryout dates are updated on the Human Jukebox website. In the past, band tryouts for freshmen have been held in February, and Dancing Doll tryouts have been held in May, but this can vary from year to year.
If you want to get an idea of what it's like to be a member of the band, check out the Bandroom Chronicles series that gives a peek into practice sessions with the Human Jukebox on their YouTube channel. One of the videos from the series is previewed below.